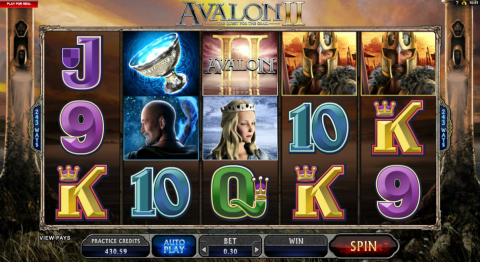 If you're going to play slots, why not go on an epic adventure while you're at it? The original Avalon introduced an adventure of sword and sorcery for anyone who dared to pull the handle, and the theme continues today as Microgaming released Avalon II. If you're worried that it's going to be more of the same old stuff, don't be! It's entirely different and has plenty of features for you to be excited about. This includes a brand new Quest for the Grail which integrates eight new features into your quest.
Understanding Betting Limits of Avalon II
To start, the Avalon II slot does not have much of a betting limit except for on the higher end. Players will be able to bet as little as thirty cents, or they can go as high as seven fifty per spin. You may also use credits if you choose, with size options being 1c, 2c, and 5c. Paying the max of five credits per line will allow you to reap the maximum jackpot of 10,000 credits, with the jackpot increased further if Merlin appears after winning. This is known as random play bonus and can happen any time. Merlin can award a multipliers of up to X4, leading into a jackpot of 9,720,000.
Questing for the Grail
Avalon II features the new 'Quest for the Grail', learning on eight different features or quests that eventually lead you to your objective. Throughout the campaign you can win up to 2,400,000 credits and you can move forward in the quest by getting three or more Grail symbols. Each stage offers something new and exciting, along with the chance to progress in the campaign.
Avalon II has plenty to offer with the ability to satiate the appetites of both hardcore slots fans and questers alike. With multiple missions and rewards to earn, this game will keep you busy right up to the bitter end. It even offers plenty of re-playability if you want to push onward. Give it a shot next time you're in the slots neighborhood!