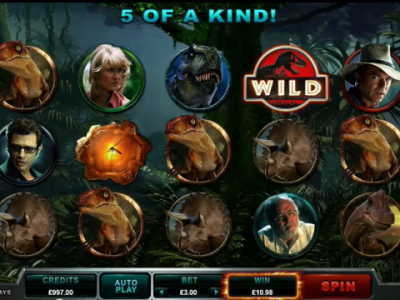 After the memorable dinosaur motion picture, various spin-offs were created from it. This includes Jurassic Park the online casino slot game. It is classified as a 243 ways Microgaming slot, patterned after the mega motion picture. It is designed with five spin features, which includes a T-Rex feature that adds a 1,900,000 credit as top jackpot and 35 more wilds to its reels.
It was a movie that changed the entertainment world completely. Michael Crichton's words were given life by Steven Spielberg in the 90s. After two more installments, the online slot game was created. Here are some of the unique features of Jurassic Park and how you can use them:
Wild Symbol. The logo of the Jurassic Park is considered wild for every part of the game, except for all the dispersed Amber symbols. The reels have the wilds stacked up on them during the base game. With it, it's possible for you to get huge multi-way wins with a whole screen filled with wilds and a few stacks. This pays 1,900,000 credits.

The Betting Limits. The minimum bet for the Jurassic Park game is about 30 cents. This covers all ways, with only one credit for every way at each cent level. You can increase your bet up to 10 credits for every way. You can also have credit size options that extend from 25 cents to 75 USD.

The Free Spins. You can easily win the free spins or free games, you have to get at least three of the dispersed Amber symbols, located anywhere on your screen. Once you trigger the Amber symbols the first 25 times, you're automatically given one of the five free game features. After the 25 triggers, you can choose your free spin. This next level is saves at every casino of your choice. When you unlock the selection, it will always be unlocked.

T-Rex The T-Rex turns up to 5 reels wild when it appears All reels have T-Rex symbols stacked up on them It has 12 free spins with the wild reels

Brachiosaurus All reels have brachiosaurus symbols stacked up on them You can trigger this feature with at least three Amber symbols Every win can be multiplied from X2 to X6 Here, you win 12 free spins, accompanied by mystery multipliers

Triceratops All reels have triceratops symbols stacked up on them A full stack can be formed by partial stacks, nudged on the screen The full stacks that have no wins at all can be re-spun once Each reel gains a new wild for every spin Here, you win 12 free spins with running wilds

Velociraptor All reels have velociraptor symbols stacked up on them Here, you win 12 free spins with split and multiplier wilds

Dilophosaurus All reels have dilophosaurus symbols stacked up on them Here, you win 12 free spins with winning wild

The T-Rex Alert
During the regular Jurassic Park play, you can randomly trigger the T-Rex Alert mode. This adds 35 additional wilds to your reels. It also remains active for your succeeding pain pins. Enjoy the Jurassic Park online slot game and re-discover the dinosaurs that changed Hollywood overnight.