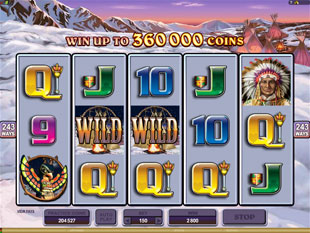 This is a fun game with lovely graphics and plenty of bonus features to keep you entertained and coming back for more. Most of the gaming sites allow you to choose to play this game free or for wagers.
If you play free, you may hit a jackpot, but remember, it won't come with any payout. Most players want that winning option to be there so they are going to be inclined to wager. However, you may decide you want to play it just for fun to explore the game and see what it is all about. Then you can decide to wager on it once you are familiar with it.
There are numerous Indian themed symbols found in the Mystic Dreams slot game. Anyone that has a passion for Native America will find this game to be quite delightful. The more of those matching symbols you get on a given pay line, the more you will win. There are free spin symbols that will keep your game going. If you get three free spin symbols on a pay line, then you will get 10, 15, or 25 free spins.
There are also multiplier symbols that increase the amount you won by that multiplier number. You have 243 ways to can win while betting on Mystic Dreams. To increase the odds of winning, place your bet so that you cover all of the payout lines. You certainly don't want a great combination to show up and then discover that you didn't bet on that given pay line.
The lowest possible bet with Mystic Dreams is $.30 per spin. The highest maximum bet is $15. You get to decide what fits your spending budget. This game is easy to understand and it can help you to relax and take care of stress. It always has something fun to offer! If you are looking for an exciting slot game to play at an online Canadian casino, check out Mystic Dreams.