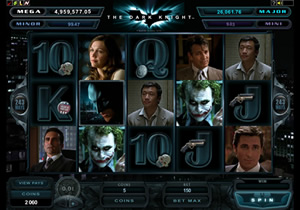 One of the fun casino games to play is The Dark Knight. This progressive slot game portrays elements of the movie by the same name. It was a huge hit on the big screen, featuring actors such as Christian Bale and the late Heath Ledger. The game offers many excellent features, as well as the chance to win the Mega jackpot of at least $1 million!
Throughout the game, you will get to see highlights from the movie too. If you are a fan of the movie – or any of the Batman themed movies – you will really enjoy this. It adds a new dimension to your slot playing that you don't get with most types of games.
Since The Dark Knight is a progressive slot game, the jackpot amount continues to grow based on the number of players and the amount of money they play. The jackpot will grow until someone wins it. Then it will start all over again at $0 and continue to progress once again. If you win the jackpot bonus, you get to spin the wheel to see which of the jackpot amounts you win.
Before you spin, you get to select if you would like to be Batman or the Joker. There are mini jackpot amounts of $10 or $100 that you can win. You can also win one of the larger amounts, which is what makes it so exciting.
There are actually 4 different progressive jackpots offered, which makes it one of the most enticing online games to play. However, you don't have to spend the maximum amount per spin to be eligible for the progressive jackpots. You can do so with only $.30 played per turn. The maximum amount you can play per turn is $6.
There are a total of 243 ways you can win playing this game with each play turn. Of course, the number of options you have for winning depends on your overall bet. The more you bet, the more ways to win you have.
In addition to the free spins, different wild symbols can end up in any of the pay lines. Any time you get a Batman or Joker symbol, you have the chance to increase your winnings. Sometimes, these symbols will offer you free spin or up to 5 times the amount that you won. The Dark Knight is an exciting online casino game that you will enjoy playing and that you have a good chance of winning from!