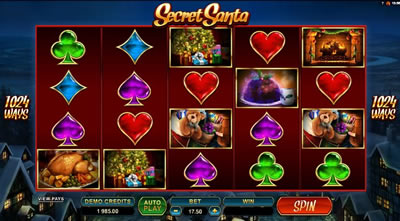 A huge number of online slots are available today. A casino offering over 300 different slots is not uncommon. Every individual slot presents a unique theme that appeals to different slot players. Secret Santa presents a real "feel good" theme thanks to the familiar imagery the video image presents.
Of course, most gamblers are going to be interested in the potential to win big. If this is what you are most interested in, Secret Santa delivers.
Holidays Themes from a Top Designer
Microgaming, the casino game designing giant, is the creator of this outstanding Christmas-themed slot. Anyone who draws positive feelings from seeing symbols featuring Santa and a holiday dinner turkey is going to enjoy sitting in front of the screen hitting the "spin" button. The pleasing sounds also contribute to a fun time.
Aside from the holiday theme and accompanying amazing graphics and sound, there is a host of other benefits associated with playing this slot.
Stats on the Reels
Secret Santa is a five-reel game and, honestly, the presence of five reels is common among video slots.
Where are the paylines, though? They are not present. Instead, a new and unique method of winning is integrated into the game.
Ways to Win
How many different paths to victory are there when you play Secret Santa? The number tops out at 1,024 and this is among the most generous amounts of any online slot in the entire gaming industry. These 1,000+ ways to win replace the common use of paylines to deliver a win.
The vast array of ways to win opens doors to collecting on a jackpot of 2,300,000 credits. Winning 2.3 million credits is huge! Consider it one of the biggest Christmas gifts you could receive.
Wagers
Surely, you want to win on the slots and how much you win is going to be based on how much you wager.
Placing a bet on Secret Santa is easy and the minimum amount of fifty cents. The wager is an all-inclusive one. In other words, a single fifty-cent bet affords you access to all 1,024 ways to win. Take that as a tremendous deal since you are never limited in terms of how many chances you have at procuring a win.
The maximum number of bets you can place is 10 credits per way to win with credit amounts leading to a maximum amount of $25 per spin. $25 per spin could lead to a generous payout.
Unique Features and Bonuses
You never know what a spin could turn up. A wild symbol might appear, giving you a new chance to pull off a payoff. The Scatter Spree symbol is something else to look for. Once it appears, you could end up accessing a bonus or delivering a new wild symbol. Free spins galore are possible the second one of the appropriate symbols appears in a spin.
Secret Santa really is an interesting online slot. If you are ever in the Yuletide mood, give it a whirl!